Small Business Network Server Setup and Support
Tabard IT offer a range of IT solutions for small businesses which include network server support including set up.
What is a server?
In the context of computer networks (ie. ones that are linked), 'Server' is a generic term meaning any PC which offers up information or services – for example; files, email, databases, anti-virus protection etc.
In large networks, servers usually do only one specific job, but in smaller networks, servers often have several functions combined onto one piece of hardware, a trade-off between cost and availability. Small Business Server Standard is an example of this type of approach.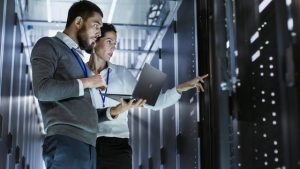 Why use one?
Some businesses start with one or more PCs, linked together to share a broadband link. As the business grows, it becomes a requirement to share files between users – for example for accounting packages such as Sage or Quickbooks, or for a filing system containing documents used by more than one person/PC. One of the users' PCs may be designated as the 'server', storing these shared files. The other workstations access these shared files.
As the requirement to share information grows, and the number of people and PCs grow, it gets harder to manage this sharing of files and keep the PCs organised and backed up; the next step is often to upgrade the network to incorporate a dedicated server, using a specialised operating system.
Advantages
A file server can store and share business files, allowing only those permitted to see the files), also making backing up much easier.
An email server allows users access to email, calendar and contact information, sharing this access across the business (remotely if required), keeping mobile devices in sync. It is also more easily backed up than using individual workstations.
Security is inbuilt into a proper server – the workstations, users and access permissions are controlled by the business through the server. Most shared standard PCs do not have this ability.
An antivirus server can control all the attached workstations, ensure regular scans and updates are performed, and report on workstations with problems.
Remote access to resources, if required, is simpler to set up than with separate PCs. Individual workstations become commodities – they can be moved around, used by different users, replaced and upgraded much more easily than if they were also being used to store information.
Disadvantages
A server in effect puts all your eggs in one basket, something which traditionally most businesses don't want to do. Proper backups and redundant equipment where necessary can be put in place to get around this. Again, it is a trade-off between cost and availability.
The increased cost is usually an issue for most businesses, and the initial outlay for a typical new server installation would probably start around £3000, but should be looked at in the context of a 5-7 year lifespan, along with the increased flexibility a server affords. The complexity of the network increases in terms of regular administrative requirements: backup, security, updates, maintenance. But this can be controlled by taking out a maintenance agreement – something that Tabard IT is happy to provide.
Next Step:
Some of the first things a business should be looking at when considering expanding the computer network are:
How many users in total are likely to need access to the network?
Are they based in the same location, or are there multiple sites?
Is remote access to email, calendar and contacts information important to your business? Do you have mobile devices (iPhones, iPads, Blackberry etc.) that need to be connected?
What is your IT budget for the next few years going to be?
Contact Tabard IT
We can help with all of the above questions, and identify the costs involved. We will help you specify your requirements, price them up and procure, set up and implement the whole thing, and go through the new set-up with your users.
We can maintain your system, ensure it is backed up, up-to-date and secure. And as you grow, we can grow your system with you. If you are interested in any of these points, please call us on 0131 339 9448 or email help@tabardit.co.uk; we will organise to visit your site(s), discuss your requirements and provide a no-obligation proposal with recommendations.