Windows 10 Guide and Support
We wrote a blog post reviewing Windows 10 a few weeks after it was released, our post covered a few important aspects of the operating system such as:
User Experience
OS Security
General Functionality
We also gave you an insight on disabling Microsoft's way of improving the accuracy of future products and updates to Windows 10, which was essentially a keylogger. However, there's a few things about Windows 10 that probably has our less tech savvy customers scratching their heads in confusion.
Start Menu not opening
Some users who have upgraded to Windows 10 have reported the start menu not opening at all, this can be fixed. If you give us a call we can help you out, but if you're 'technically gifted' then take a look at this post and follow the instructions.
Windows Store & Music Player crash
These apps may crash, don't worry. This isn't just happening to you, in fact, this is quite common with Windows 10 machines currently. Windows Store has only been reported to crash when you are downloading something, so if it's crashing when you're not downloading something and lots of other apps are crashing you may want to downgrade your operating system. We can do that for you, get in touch with us today!
INACCESSIBLE_BOOT_DEVICE error
This is a bigger and more complex issue that some users are experiencing with Windows 10, generic troubleshooting can solve this issue but it's all trial and error unless you have recently installed new hardware, in which case try taking it out and trying to boot your PC up again. If you're unsure of how to resolve the issue, we can always help you out. Call in or drop your machine off in store and we'll take a look at it.
Office documents do not open
Users have reported that their office documents are not opening when using Windows 10, this can be fixed via the command prompt. However the command used to fix the problem is very intricate, and only applies to the following errors:
Word experienced an error trying to open the file

This Excel file is corrupt and cannot be opened

The application was unable to start correctly, PowerPoint found a problem with the file or PowerPoint can't read this.
Start > CMD
Enter the following command
icacls "%programfiles%\Microsoft Office 15″ /grant *S-1-15-2-1:(OI)(CI)RX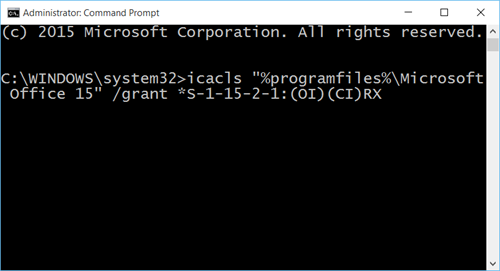 You should then see a success message, and your Office documents should open once more.
The Blue Screen of Death
Like every Windows OS, there is always the possibility of a sudden BSOD (Blue Screen of Death) sometimes the error will cause your computer to force a reboot and remain stuck in a reboot loop. If you encounter a BSOD, don't panic. Our team of IT professionals will be able to fix it for you, call in for a quote!
Any other questions/problems?
Any other questions or issues relating to Windows 10, we'd be more than happy to help you. Get in touch with us and we'll get to the bottom of your issue and resolve it for you.