Managed IT Support Services in Edinburgh, Glasgow & Central Scotland
Tabard IT offers trusted managed IT support services which business users can rely on in the Edinburgh, Glasgow and Central Scotland areas. We are leading IT consultants specialising in managed services including cloud and business network support. With over 30 years of experience within the IT industry, we have the expertise to assist you and your business team when it comes to managing your cloud services, business network, IT hardware, software and managed security.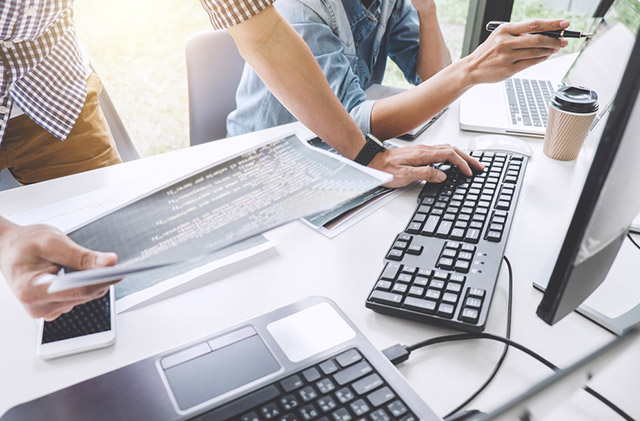 Our specialist IT support team make site visits to many clients, so you don't have to come to us. We offer a friendly service to our end users, keeping jargon to a minimum where required and provide you with full IT support for all versions of Windows and Macs. Tabard IT can help with maintenance agreements for businesses which provide on site, remote and telephone support for hardware and software, PCs/Macs and networks, for a fixed monthly cost.
Our IT specialists can supply PCs, Macs, tablets, broadband connections, wireless networks and printers and can set them all up for you and your staff, ensuring your information is backed up.
What are managed IT services?
Your business might be dependent on the smooth functioning of computer technology, including software and hardware.
If you were a gardener, your efficiency and your capacity to work hard and thoroughly would depend on regularly servicing your lawnmower and sharpening your secateurs. If you were a builder, all of your power operated tools would need to be regularly checked, to ensure they could be safely used to professionally complete a project. Similarly, your computers, printers and any other form of Information Technology found within your workplace, should be kept up to date, in excellent condition and free of bugs. This is where Tabard IT managed service providers enter the picture. A managed IT services plan from Tabard IT can include a variety of IT technical support responsibilities which you don't have time to manage yourself. Our IT specialists will give your IT infrastructure the attention it requires, keeping it safe and available for use by your business at all times.
Outsourcing IT managed services to our Edinburgh-based IT company means that we will handle all IT technical support responsibilities on your behalf. This way, you won't have to worry about any IT-related problems, questions, or concerns that your team may encounter during the course of their working day. We will provide you with complete peace of mind, enabling your team to focus on their core tasks and allowing your business to thrive. Our professional team will quickly and effectively resolve any IT issues that arise, ensuring that your operations run smoothly.
Not the same as employing an IT expert
At Tabard IT, we offer managed IT services, all under one roof, which is not the same as permanently employing somebody onsite, whose role is specifically to maintain all aspects of your Information Technology. We operate around the following principles:
IT telephone support offered as and when it is required by your business. This works best for more remote areas.
We offer friendly local visits around most of Central Scotland.
Our monthly maintenance fees are affordable and ensure you obtain and fair and excellent deal, allowing your business to flourish.
How IT Management Services allow your business to succeed
We safeguard you against unexpected system failures which have the potential to bring your business to a halt for days. If you are seeking an affordable solution to any of the following, look no further. These are some of the managed services we can assist you with:
Supplying and installing computer hardware such as PCs and Macs.
Integrating connections for broadband, WiFi, printers, tablets and smartphones.
Recovering and backing up data, including General Data Protection Regulation Systems.
Updating and maintaining security related software.
Providing emergency repairs and identifying system error codes.
Installing tools for monitoring the operation of all of these systems, around the clock.
Efficient remote monitoring for peace of mind.
Network design and optimisation for businesses requiring high speed IT connectivity, including cloud services providers support.
Why Choose Us As Your Managed IT Service Provider
The Information Technology based aspects of your business include all the tablets, smartphones, printers, laptops and desktop computers that are used for work purposes, or to store its data. This is your business' infrastructure, the things that make it work. We can help you to ensure they are integrated so that all the devices communicate with each other and function as a cohesive system.
We are living in a time where basically every company or business needs the presence of technology. The customers are always connected and businesses have to adapt to this new type of client. Besides that, automatic systems can greatly optimise a business performance, reducing costs and the amount of time to finish simple tasks such as client registration and finance documentation. Our team at Tabard IT is ready to provide you with high quality IT solutions in Edinburgh, Glasgow and Central Scotland you need.
We offer all of the IT managed services described above, for a fixed monthly cost. Contact us on 0131 339 9448 or email contactus@tabardit.co.uk with any enquiries. Alternatively, fill in your details below and we will get back in touch asap.
Managed IT Support Services
You can't be in business without a reliance on computer systems. In the past, the fear of spending money on IT has put a lot of small companies in a mindset where they will only engage an IT company when something breaks. That way, it appears that you only spend money you absolutely need to.
It is interesting for IT professionals to see, for example, a trucking company understand the value of regular maintenance and servicing of its fleet, but essentially ignore IT systems by waiting until an engine seizes up because it has run out of oil. Many IT problems can be prevented and the cost of those disasters are avoidable.
Overwhelming but too important to ignore
It is only reasonable for small businesses to focus on their core service delivery. They do what they are good at and what they understand. Managers will engage accountants, lawyers and other professionals throughout the operation of their company in a pro-active and regular fashion but ignore IT until a problem can no longer be ignored. By then, it is a major disruption and cost to your company.
Multi-platform Expertise (phones, tablets, computers, cloud)
You may be lucky enough to have someone on staff that are capable of doing the most basic things but IT infrastructure has moved on from "a few PCs." Businesses need to integrate smartphones, tablets and other mobile devices. Data needs to be secure, on multiple devices, in the cloud and to be instantly accessible from almost anywhere. That's a big call for someone who is employed to do other jobs. Our managed IT services model covers all technologies and you can let your local expert get on with the job they were actually employed for.
IT Security Services
Preventing Ransomware, Malware, Viruses and Hacking
The most important way to fight back against the constant IT security threat is fairly mundane: keep all your software up to date. No matter how diligent you are with the software you understand, it takes only one phone, computer, server or system that falls behind for your company to be compromised.
Many companies have zero problems on this front but that doesn't come from using the old method of hoping for the best and then "getting someone in" once it is your turn to deal with the IT nightmare.
You can't know the true cost of your next IT disaster though there is a potential for complete data loss or being unable to operate essential systems for days. Those events can have severe financial consequences. Managed IT services are part of your risk management strategy where you eliminate preventable IT related service problems rather than blindly waiting for the next one to strike.
Tabard IT Limited Managed IT Services
Although Tabard IT uses remote support and monitoring technology to be able to deliver cost-effective managed services, you need to consider the numerous benefits that come from dealing with a local IT company.
Apart from being able to sit at a table and have a meeting when you want to, you don't have to chase some faceless, person from overseas, to whom you are just another job on a call-centre screen. Sometimes you do need someone to come in and physically inspect, install, configure or fix something. The support call representative is likely to tie you up on the phone or a chat box for hours, telling you to do his job for him.
In simple terms, you want a full-time, reliable IT company that partners with you to address issues with your IT and deliver high quality managed IT services that are perfect, cost-effective and easy. You want to get on with running your business and doing what you are good at. Let Tabard IT do what we are good at. We keep the IT wolves from your door and if disaster strikes, we will know you, care and would be right there.
Put those stressful IT emergencies in the past like our various clients have done in the Edinburgh, Glasgow and surrounding areas. Contact us to arrange a no-obligation meeting or discuss your managed IT service requirements. We will show you the benefits of how Tabard IT can make your IT infrastructure work well and avoid potential problems.
Our professional computer services ensure there is no need to look elsewhere. We have all your IT needs covered to move your business forward. Call us on 0131 339 9448 or email us at contactus@tabardit.co.uk and we will do our best to make your life with IT easier.