Computer Services Edinburgh, Glasgow & Central Scotland
Are you looking for the best place to find reliable, trustworthy computer services in Edinburgh, Glasgow and Central Scotland? Look no further than here at Tabard IT! With over 20 years' experience within the industry, we have all the expertise you need in computer support for your business. We specialise in fixing all types of computer problems or issues. Tabard IT have helped many businesses to get back on track quickly, following on from unexpected problems associated with their IT.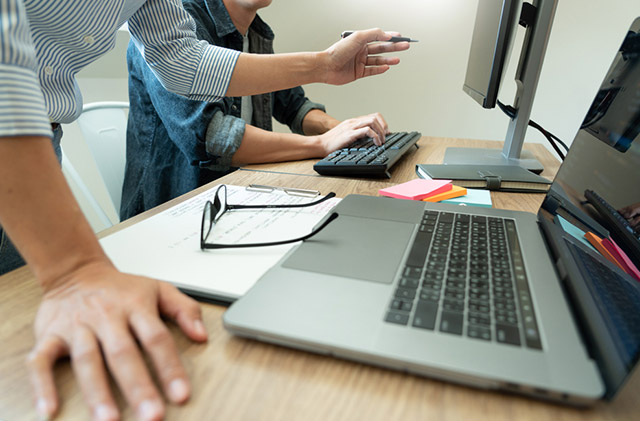 We are always striving to be the best in our profession. That's why we offer a wide range of services, including: Computer Security Services, Data Backup Solutions and Virus Removal & Prevention – just to name a few! Our service is quick and reliable; for example when it comes to virus removal or prevention, you can rest assured your pc and laptop devices will be safe and secure, with our virus removal team being certified by Microsoft.
If you've got a computer or laptop problem that needs fixing quickly, then please give us a call on 0131 339 9448 to find out more about the range of computer solutions we offer!
Our highly trained and experienced IT technicians can advise you on the right package to suit your needs, whether you need just for a quick fix or an all-round solution.
We're here to help small and large businesses get the best out of their IT infrastructure.
Whether you are looking to clean up any PCs in your office, purchasing new hardware computer services edinburghor just need some computer support in terms of computer maintenance for your business networks, call us on 0131 339 9448 and we will arrange everything for you.
When businesses put their trust in our expert IT support, they can rest assured in the knowledge that we are there to offer any technical support when it is needed the most. We can help you save time and money whilst avoiding any stress or inconvenience. Here are some of the specialist computer support services we offer:
Let our Edinburgh computer services come to you.
Tabard IT's Edinburgh computer repair service include site visits to your location in and around Edinburgh, also covering Glasgow and Central Scotland regions. Our friendly team of IT experts will speak in a simple jargon-free language you can relate to and assist you with any queries. We can also offer business maintenance agreements at a fixed monthly cost for peace of mind. This will include support on-site, remotely and over the telephone for any hardware, software, PCs and networks.
Keep your PCs, broadband connections, wireless connections and printers tangle-free and fully operational with all of your information backed-up. We help you stay fully focussed on the day to day running of your business by taking care of any IT-related computer problems or issues.
Want to find out more about our Edinburgh computer services? Browse through our website to find out more about our range of professional IT services in Edinburgh as well as Glasgow and Central Scotland.
Our IT support blog features our latest updates and relevant industry news. You can give our IT experts a call now on 0131 339 9448 or email us at contactus@tabardit.co.uk. Alternatively, fill in the enquiry form below. We aim to respond as quickly as possible for all enquiries received.