If you are an entrepreneur who is running a business, chances are that you have had to deal with IT at some point. You need your computers to work properly in order for your business to function smoothly. If things go wrong, it can be costly and time-consuming for both yourself and those around you. It's important not only that the technology works properly but also that there is someone available to fix any problems as they arise. In this blog post, we will discuss 10 signs that show when a business should consider hiring an IT support provider.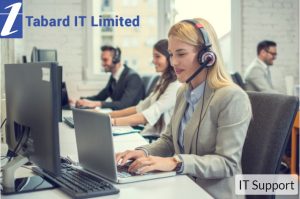 1) You've experienced an outage – You're not sure if the outage was just in your office or it's across all locations.
– You can't access your files from your office, but the network seems to be working fine at home.
– Customers are calling you saying that their computers aren't working either and neither is yours.
2) You need someone there – ideally a person or team who can come when they're needed and stay as long as necessary to help with your IT problems.
– You have a developer or engineer who can come in and help you with some of the problems but they aren't available at all times to fix everything that comes up.
– Your current IT company is always booked out for weeks on end, meaning your issues will need to be resolved later rather than sooner.
3) You Have Experienced Loss Of Data – Your company has experienced data loss in the past year and this has caused financial problems as well as lots of stress and a loss of morale.
Seasonal business data loss is just part and parcel of the industry, unfortunately. Perhaps we're talking about an ill-timed outage during peak shopping season or a ransomware attack that wiped out half your systems? Either way, it's guaranteed to cause problems financially as well as staff productivity (not to mention morale).
4) Your Employees Are Frustrated – Frustration in the workplace is a sure sign your company needs support. If employees are constantly complaining about computer problems and slow internet speed, you need an IT provider ASAP!
5) Too Much Time Is Spent on Troubleshooting Problems with Computers and Software – You can't keep up with the frustrations that come with trying to solve every computer problem you face.
6) You're Spending a Lot of Money for an Inadequate or Faulty System – If your current IT support provider isn't helping you save money, or if they're charging more and giving you a system that's worse than what you had before, it might be time to look for someone new.
7) Hardware is Broken Often, Causing Delays in Business Operations – If your hardware is acting up and causing delays in business operations, it might be time to consider a new IT support provider.
8) Your Business Needs Up To Date technology – One way that technology companies can help to ensure your business has up-to-date technology is by offering a managed IT service. This means they take the time and responsibility of managing any problems, updates and new technology so you don't have to worry.
Budgeting for a managed service can be as little as £100 per month but the benefits it brings are invaluable! In addition, if your business is not sure on what IT support services would benefit them or their employees then simply ask an IT company – they will provide you with the best advice for your business.
9) Your Staff Is Dedicating More Time On IT Problems Than Work Related Matters – If your employees are spending more time on IT issues than they are working, it's definitely time to call an expert. Outsourcing IT support alleviates the burden of dealing with your business IT requirements. You free up time and resources within your company and you get experts to handle your IT for you.
10) When It Comes To Phone Conversations With Technology Vendors, Too Much Time Is Wasted – If your company is spending too much time dealing with the various technology vendors, it might be a sign that you need an IT support provider to help manage them for you. You may spend a lot of time on the phone when you have several firms managing your phones, internet, and printers. You can spend an excessive amount of time on the phone if you have different businesses handling your technology. You only need to make one call for any issue because you've got a single companylooking after everything.***
These are just some of the reasons why your business might need the services of an IT Support company. If you are experiencing any of these signs, it's time to call an IT company for assistance. Contact our team at Tabard IT if you have any questions about what we can do for your business. Call our IT support team on 0131 339 9448 or email contactus@tabardit.co.uk with any enquiries. We work with numerous businesses in Edinburgh, Glasgow and Central Scotland.