It is hard to imagine a world without hard drives. They are so common that we don't give them much thought until they stop working, and then it can be too late. Hard drive data recovery is an industry all its own because hard drives can be quite complex.
Tabard IT has been performing hard drive data recovery in Edinburgh for years and have developed the processes to make sure your hard drive is properly taken care of from start to finish! Read on for more information about our services or contact us today if you need help with hard drive data recovery!
In the computing industry, data recovery is a process whereby owners of inaccessible data can access otherwise unavailable information. The data may have become inaccessible, damaged, badly formatted or corrupted in a number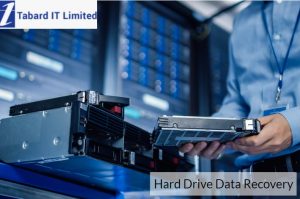 of ways. Through hard drive data recovery, a hard disk can be accessed and its content taken out to make it readable again.
Hard drives are rather complex in their own right because they contain moving parts that may become damaged or seized up with age. This makes hard drive data recovery an industry all on its own! Many people don't know where to turn when they experience hard drive failure but Tabard IT has been performing hard drive data recovery services for years now and we have the processes in place to ensure your hard drive is properly taken care of from start to finish!
Hard Drive Data Recovery Steps
Firstly, Tabard IT's hard drive data recovery experts will assess the hard drive to determine how much damage has been done and what kind of hard drive repair is needed. Sometimes, hard drives may require a full rebuild using parts from other hard disk drives. Other times, they might need just some minor fixes or adjustments in order for them to work again fully! Next, Tabard IT's hard drive data recovery team assesses the situation thoroughly and we can begin rebuilding your hard disk as requested.
Hard drives typically last for many years but can have a very unpredictable failure rate. They are mechanical devices with motors and rely on precision alignment in order to function properly. Opening a hardware hard drive is always extremely delicate, and should only be attempted by professionals.
A large proportion of data recovery services come from hard drive failures and are increasing every year. If you're dealing with data you absolutely can't afford to lose, seek professional help as soon as possible!
Tabard IT's hard drive repair team is always on hand to help when hard drives are in need of a little TLC or if they've been completely wiped out due to power surges and other such events. We understand how important your data is, and we'll do everything in our power to recover it.
It's hard enough recovering data from a hard drive that has been formatted or had files deleted – but when there's physical damage involved like an electrical fire or hard drive head crash then the challenge is even greater. This is where Tabard IT really excels! We have years of experience with dealing with these sorts of problems and can offer free quotes for customers who are interested in hard drive recovery services.
We ensure all work is backed up on multiple servers so you never need worry about losing your information again! If you're looking for professional assistance today call us at 0131 339 9448.