The regular maintenance of vehicles, machinery, equipment and power supplies enables a business to operate with maximum efficiency and reliability. In a similar fashion, managed IT services for all computer technology including hardware and software ensures these systems are functioning correctly.
Managed IT maintenance is the prime safeguard in preventing unexpected system failure that can in many instances bring a business to a complete halt for many days.
IT Service Management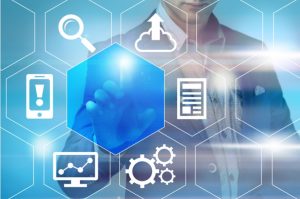 Experienced computer technicians offer a wide range of IT services from the installation of complete, new systems to the updating of existing networks and carrying out regular maintenance checks. IT services typically include:
Supply and installation of computer hardware such as PCs and Macs
Integrated connections for broadband, WiFi, printers, tablets and smartphones
Modernisation of existing technology
Data back up and recovery including General Data Protection Regulation systems
Cloud and Avast Managed Workplace expertise
Security software maintenance and updates
Routine servicing of computer hardware and software
Tools for monitoring systems around the clock
Emergency repairs and identification of system errors
The Benefits of Managed IT Services
Computer technology is continually developing. Information technology has become part and parcel of business activities. IT services can steer business activities to success. Businesses should hire an IT services company for the managed IT services in order to keep on top of all IT systems.  Security systems in particular need regular updates to counteract the ever-increasing threat of sophisticated hacking techniques.
Through regular maintenance inspections IT specialists can easily identify weak links in existing security systems. Suggested updates including the latest software in anti-phishing and ransomware can be installed to bring state of the art reassurance and efficiency to any business providing effective protection for data and finances.
Easy to Predict Costs
When it comes to IT-related expenses, they are unpredictable. Costs of doing business are a significant factor in the success or failure of a business. Therefore, when you adopt the technology, you have to make sure it turns out beneficial and not a hazard to the profits. There are managed IT service providers such as Tabard IT Limited who offer managed IT services at a fixed rate. They can even secure procurement for the hardware and software you need. Whether they back up the data, install new software, adjust your network and, monitor it, maintain your system security and offer consultation and guidance, you still pay the same agreed amount in the agreement. With such a deal, you can budget for IT services.
Increased Efficiency and Ensure No Alteration of Workers Roles
Technology becomes obsolete very fast. But with an outsourced IT service provider, they will sort you with upgrades on time. You also enjoy increased efficiency in the business considering that your employees can concentrate on their work. Even in the cases where you need an IT project, the hired company will bring its staff to handle the project thus internal staff remains unaffected by your plans. In this case, the staff enjoys the non-interrupted environment from their skill set work leading to a continued flow of production.
The Business Enjoys the Economies of Scale

Business gets into a contract with the service provider. The services are charged according to the magnitude of requirements and a number of services. As the business grows and requires an increase in a particular service, the costs of upgrades are often lower from the prodder. Similarly, if the business no longer needs specific IT functions or require a reduction of service, the factor is possible. For instance, If the company wants specific service they are not affected regarding losses of idle resources or idle labour. There is a lot of flexibility provided by these companies. You also get many other services more quickly and cheaply. For instance, managed cloud solutions get easier once you are getting them through an IT service provider.
Assured Business Running and Immediate Response
Solving IT problems during normal business operations can be hectic for any business: it may even result in losses. However, with a managed it service provider, you are guaranteed an immediate solution. In fact, it helps to reduce the workers' downtime due to IT-related failures such as internet connectivity. Additionally, the managed IT services companies can offer a 24/7 network monitoring service to minimise chances of network failure.
Choosing the Best IT Service Provider
Professional IT maintenance offers reliable services and support for clients at affordable rates. The best IT specialists provide a combination of on-site and remote solutions ensuring IT problems are solved with a minimum of disruption. All types of businesses in Central Scotland including Glasgow and Edinburgh have benefited from the professional services of Tabard IT. With more than thirty years of experience in providing a range of managed IT services the authorised and licensed technicians from Tabard IT also offer:
Affordable monthly maintenance fees