Windows 11 is the latest Operating System from Microsoft and is being rolled out to users now. You might be wondering when the Windows 11 upgrade will start to roll out for you. We all know that Microsoft wants to make sure they can provide a seamless experience for everyone. If you are still waiting for the upgrade, there are things we can do now in preparation. Here's how to get ready for Windows 11!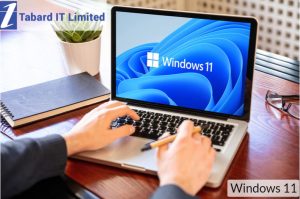 Decide which PC, Laptop or Desktop device you'll use to run Windows 11 – If you have more than one computer, take a walk around your home or office and decide which device will be the best choice to run Windows 11. If you're going to use your laptop for work as well as personal life, then having it upgraded to Windows 11 might not be worth it because of its smaller screen size.
Create a Microsoft account to send and save files and bookmarks – You may already have an existing account in place, in which case, you should have everything ready within your Microsoft account. If not, no worries! You can create one before it's time to upgrade.
Backup your files – Whether you upgrade or do a clean install of Windows 11, it's always best to back up all the files on your device before taking any steps further in this process. This way if something goes wrong during installation, then you at least have a backup.
Install Windows 11 – Once everything else is ready, it's time to install the new operating system! Make sure you do this when your device isn't in use because once installation starts, any program running on it will be closed by default and may interfere with the process of installing Windows 11. If during installation something
Once you have Windows 11 installed, it's time to get more familiar with its top productivity tools, apps and features . If you're not quite ready for this, make sure to set aside some time to do so, when possible. Then, you'll be more productive right from the start!
Do any of your devices have specific hardware or software requirements? Are they compatible with Windows 11? If not, it might be time to upgrade some older laptops and computers. Make sure your devices are compatible with Windows 11 by visiting the Microsoft website .
If you need some help and guidance with your computer operating system upgrades and software management, speak with our team at Tabard IT. As a leading IT consultancy in Edinburgh, Glasgow and Central Scotland, we can help you plan your upgrade and manage the installation. Our technicians can provide you with tips on how to get ready for Windows 11, and we'll even set up a time that fits into your schedule!