Introducing our brand new mobile friendly website
Today, we at Tabard IT are proud to announce the arrival of our brand new website. Our new-look site improves on our previous one in a technical way. Aesthetically, it is worlds apart from the very first design we used in 2002.
When we started out, mobile phone browsing seemed otherworldly. Monitors were heavy and clunky. Windows XP and Internet Explorer 6 were state-of-the-art, and a Nintendo Wii meant pausing Super Mario Brothers for five minutes.
Our First Site
This was our longest-serving design. A good-to-honest no-nonsense design with great emphasis on written content and straightforward information. It is also worth noting that broadband connections were rare in 2002; many households had dial-up accounts so flashy memory-hogging graphics were out of the question.
Though today's sites use CSS positioning and block elements, table cells were commonly used for positioning graphics and text till the mid-noughties.
The Dawn of a Blue Era
The next version of our site saw subtle changes to the layout, with navigation spanning the entire width of the page container. Most noticeable is a change from lime green to royal blue for our headers and footers. This was our first Net Sixty Six created website. They would also design the next version, and our present version.
Over time, social networking buttons were added to the masthead. By 2014, updating our site on the first blue website of ours started getting laborious. This led to a radical redesign, whilst remaining faithful to the blue colour scheme. The results were mind blowing.
Our first WordPress powered site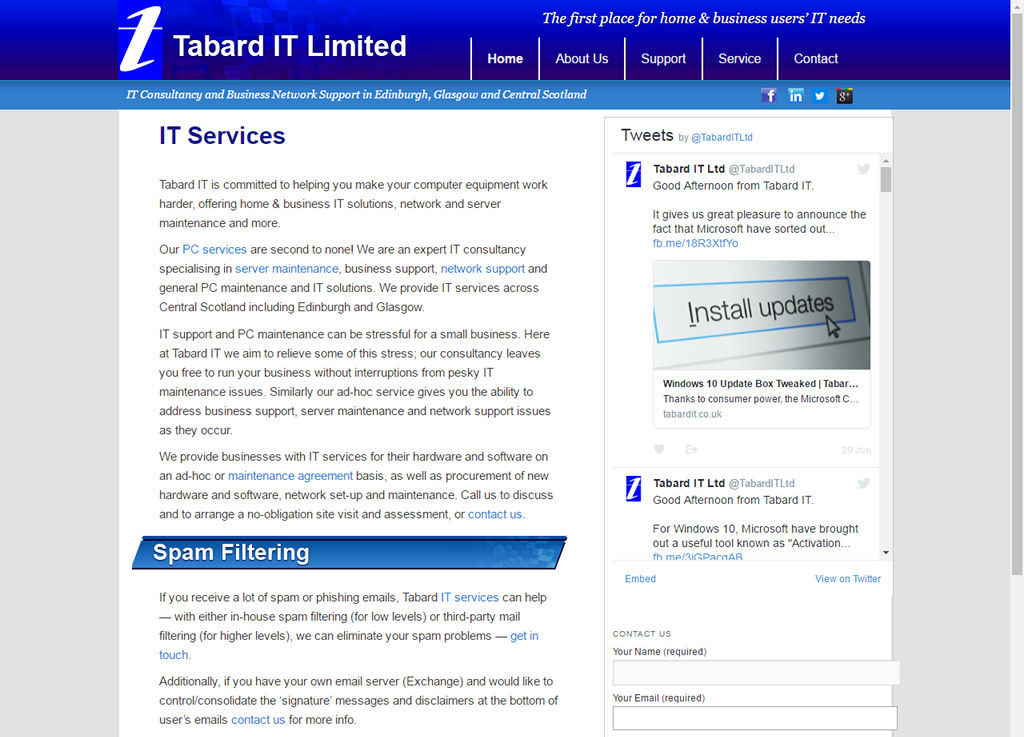 With constant updating required, the use of a content management system was inevitable. Once again, our fellows at Net66 designed the site and installed WordPress onto our server space. This made for regular updates including blog posts. Our Twitter feed was integrated into the new-look site.
The new version
The version you see in front of you is a quantum leap on the previous design. Whereas the previous one gave us all the advantages of a WordPress-built website, the current one is designed for smartphones and digital tablets – as well as PCs. Again, using the WordPress content management system which has only served us well. It has also allowed for the quick transfer of earlier blog posts and web pages.
Throughout our fourteen years, there is one part of the website that has stayed the same throughout. Our italicised 'i' company logo. The same is also true with our friendly and impartial advice, transparency and realistic prices.
We hope you like our new-look site. Feel free to comment on our website, give us a Tweet, or tell us on Facebook. We welcome your feedback.